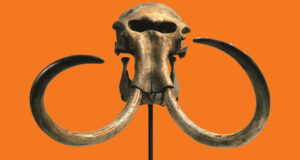 BEHIND THE SCENES
How Mammoth Got Its Name
As with most stories, it's a little bit of this and a little bit of that. It all began with a piece of property in Antrim County, MI that was to be the original location of Mammoth Distilling. We envisioned a combination stillhouse and tasting room on a beautiful wooded property we had purchased in 2015. The property, which we still own and have since turned into a Gin Garden, abuts a local recreation area called "Glacial Hills". Names like that are common up here in a region formed by Ice Age glacial movement, and populated by many large creatures of that era, including a 250-pound beaver, the American Mastodon, and the Jefferson Mammoth.
We felt a kinship with these ice age cousins as we too are shaped by, and thrive in, the long cold winters of northern Michigan. These thoughts and images were in our minds as we pondered business names. In the end, we were enamored by the Mammoth and all the adjectives that automatically come to mind: old, big, strong and stoic to name a few. Though we were actually young and small, the mighty mammoth became our aspirational soul animal and official company name.